Description
Please join us in celebrating the 2021 ASP Annual Award Recipients at our first Virtual Gala celebration. Presented via a Zoom Webinar, the presentation will feature each Awardee including special talks by each. Your ticket purchase is a donation in support of the work and mission of the ASP.
Location
Live Zoom Streaming
Date & Time
Friday, November 19, 2021 5pm PT/ 8pm ET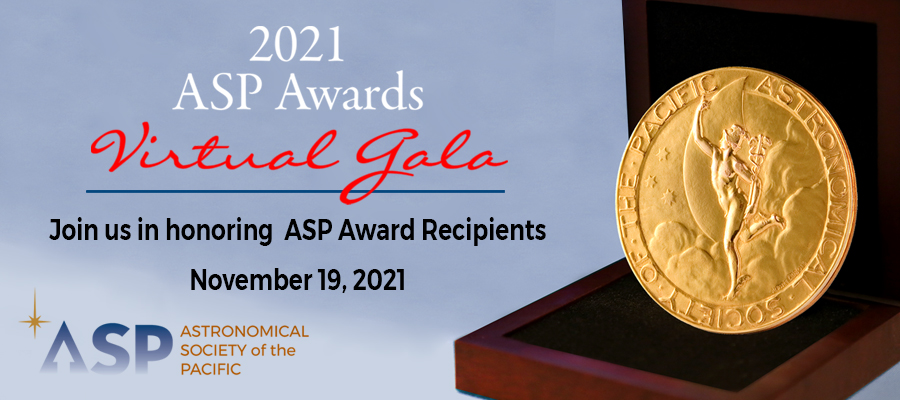 If you wish to purchase a ticket for others, you do need to purchase them individually for each viewer using their own email as the zoom link registration is unique to each purchase/email.
Your receipt for this ticket will include directions to Register for your unique Zoom link for the November 19th event.
Important Note: Please be sure to check your SPAM folders for all of your receipts and zoom communication for this event.
Visit our Awards page to learn more about the ASP Awards, its history, and a complete listing of the various awards and recipients.  
Bruce Elmegreen – Catherine Wolfe Bruce Gold Medal
Gudmundur Kari Stefansson – 2020 Robert J. Trumpler Award
Jane Huang – 2021 Robert J. Trumpler Award
Lars Lindberg Christensen – Klumpke-Roberts Award
Christine Hirst Bernhardt – Thomas J. Brennan Award