Safe Solar Glasses
(Set of 10)
Safely peruse the surface of the sun anytime for sunspots or gaze directly at future total eclipses behind these specially designed shades. Constructed from scratch resistant black polymer, each lens boasts an optical density of 5 or greater. They provide the ultimate in protection from harmful solar radiation filtering out 100% of harmful ultra-violet, 100% of harmful infrared, and 99.999% of intense visible light.
---
Viewers enjoy a sharp, orange-hued image.
Ages 8 and up; adult supervision recommended.
Safe Solar Glasses are Certified and ABSOLUTELY SAFE FOR DIRECT SOLAR VIEWING.
Design Note: When we run out of our private label designed viewers, we will be shipping generic eclipse designs.
Contact Customer Service for lead time and pricing of large quantity orders.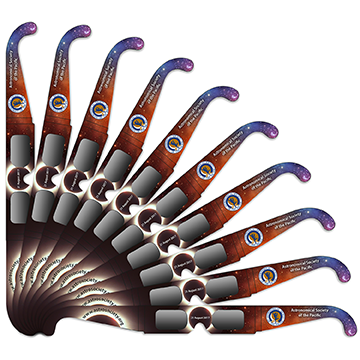 Save
Save
Save
---