Solar Science: Exploring Sunspots, Seasons, Eclipses, and More
Just in time for the upcoming Solar Eclipses, this NSTA Press Book, Solar Science is the perfect book for middle school teachers, informal science educators, youth group and after school leaders. It provides stand-alone topics and activities that cover topics such as sun tracking, reasons for the seasons, space weather, discovering the sun spot cycle, and much more.
---
Prepare for the upcoming 2023 and 2024 Solar Eclipses in the United States and parts of North America.
Authors Andrew Fraknoi and Dennis Schatz, former Executive Director and Board President of the ASP, bring their award-winning expertise and encourage students to ask questions, experiment, compare notes, and refine & report results. The book also connects to the Common Core State Standards and the US Next Generation Science Standards (NGSS) via a series of student-centered learning experiences,
Activities can be used one at a time or as a comprehensive curriculum.
Grades 5-8, extendable to High School and College.
For online extras for this book, visit www.nsta.org/solarscience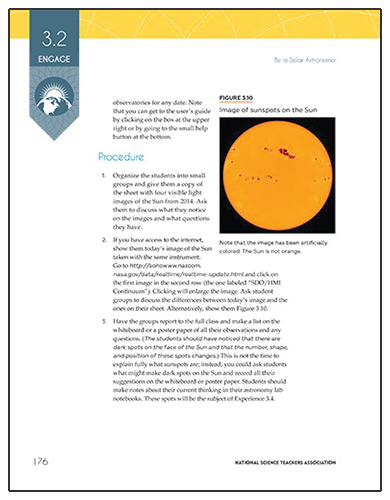 ---